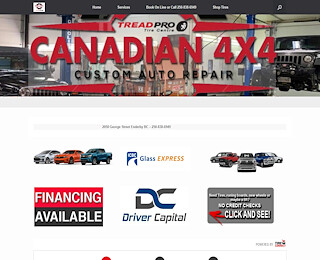 Whether you're searching for an exceptional auto repair shop or comprehensive fleet solutions for your business, Canadian 4x4 provides Vernon with superior service.
Canadian 4x4 Recyclers has recently been renamed to Canadian 4x4 Automotive Repairs, as they no longer recycle vehicles and are under new ownership. If you were a past customer, or if you are looking for a reliable repair shop that's just a stone's throw from Vernon, why not stop in for a cup of coffee and see what has changed. Not only does Canadian 4x4 still specialize in 4x4s, they also work on cars and big rigs.
With over 20 years of experience in car repair in and around Vernon, Canadian 4x4 is still looking forward to meeting or exceeding your expectations every day. On-site mechanics Tony and Dan are highly qualified technicians who believe in doing a job right the first time. That means when you bring your car, truck van or other vehicle in to the shop, you can expect professional and experienced service, every time.
Auto repair is not the only service that Canadian 4x4 provides to the Vernon area. Their fleet services are designed to cover businesses that are interested in minimizing the costs of repair and break down time on their own vehicles. Canadian 4x4 works hard to ensure that your entire fleet is up and running every day while keeping your maintenance and repair bills to a minimum. Why else would so many locals trust Canadian 4x4 to provide them with fleet solutions that meet their individual needs?
Canadian 4x4's government certified technicians are supplemented through their association with All Data Management, a services that provides technicians with up to the minute information from the manufacturers on all makes and models of vehicles. This translates to the very latest technology for the repair of your vehicles, combined with a commitment to getting you back in the driver's seat and back to work, Canadian 4x4's service to locals is second to none.
Custom lighting is another service that Canadian 4x4 provides, aside from auto repair in Vernon. With access to all the major lines and styles of custom lighting solutions you're looking for, Canadian 4x4 can help you with everything from headache racks and bush bars to running boards and tonneau covers. Give them a call at 250-838-6949 to ask about the installation of just about any accessory.
Canadian 4x4 Auto Repair offers Vernon residents the benefit of their professional blog. Visit online at canadian4x4.ca for professional advice and expertise on minor and major fixes on your vehicle.
If you need tires on your vehicle, stop by Canadian 4x4 Auto Repair. Vernon residents can get a great deal on both new and used tires and wheels, including top brands Michelin, BF Goodrich, Uniroyal, Bridgestone, Goodyear, and Cooper. Canadian 4x4 won't sell you a tire they wouldn't put on their own vehicle. You'll find Canadian 4x4 open every weekday from 8am to 5pm. Not only are they the preferred auto repair shop in Vernon, but they want to meet all your tire and wheel needs. Call 250-838-6949 to speak with a technician.
Auto repair Vernon
canadian 4x4
2508386949
2050 George Street Enderby , BC v0e1v0
View Larger Map
We welcome your comments!